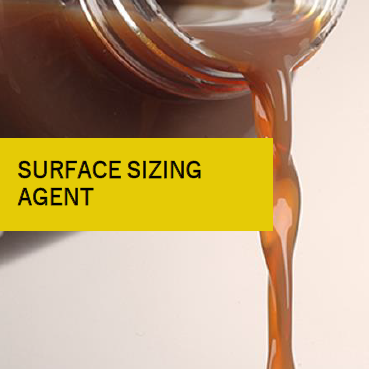 Surface Sizing Agent
          is a synthetic copolymer of high molecular emulsifier 
and styrene ester monomer. It mixes well with starch and 
provides the starch coating with excellent cross-linking strength
 and hydrophobic property. It's featured by low consumption, 
free odor, low foaming, long foam inhibition period and excellent 
film forming, and it can significantly improve the water resistance 
capability and ring pressure strength of corrugated paper and 
cardboard paper. It is a sufficient substitute for internal sizing 
agent and has no maturation period. It is applicable to various 
types of surface sizing machines.
Advantage
          Low consumption, low sizing than internal (pulp) sizing and AKD type of surface sizing. 
The paper can be fully cured after reeling down. Strong water-resistant performance.
Features
– 
The cationic surface sizing agent needs some aluminum sulfate to perform well.
– 
The product series adapt to all high and low speed paper machines.
– 
Good Moisture Resistance, effectively prevent the reduction of RCT.
– 
Anionic the surface strength for culture for cultural paper.